19 Ideas to Upgrade Your Outdoor Space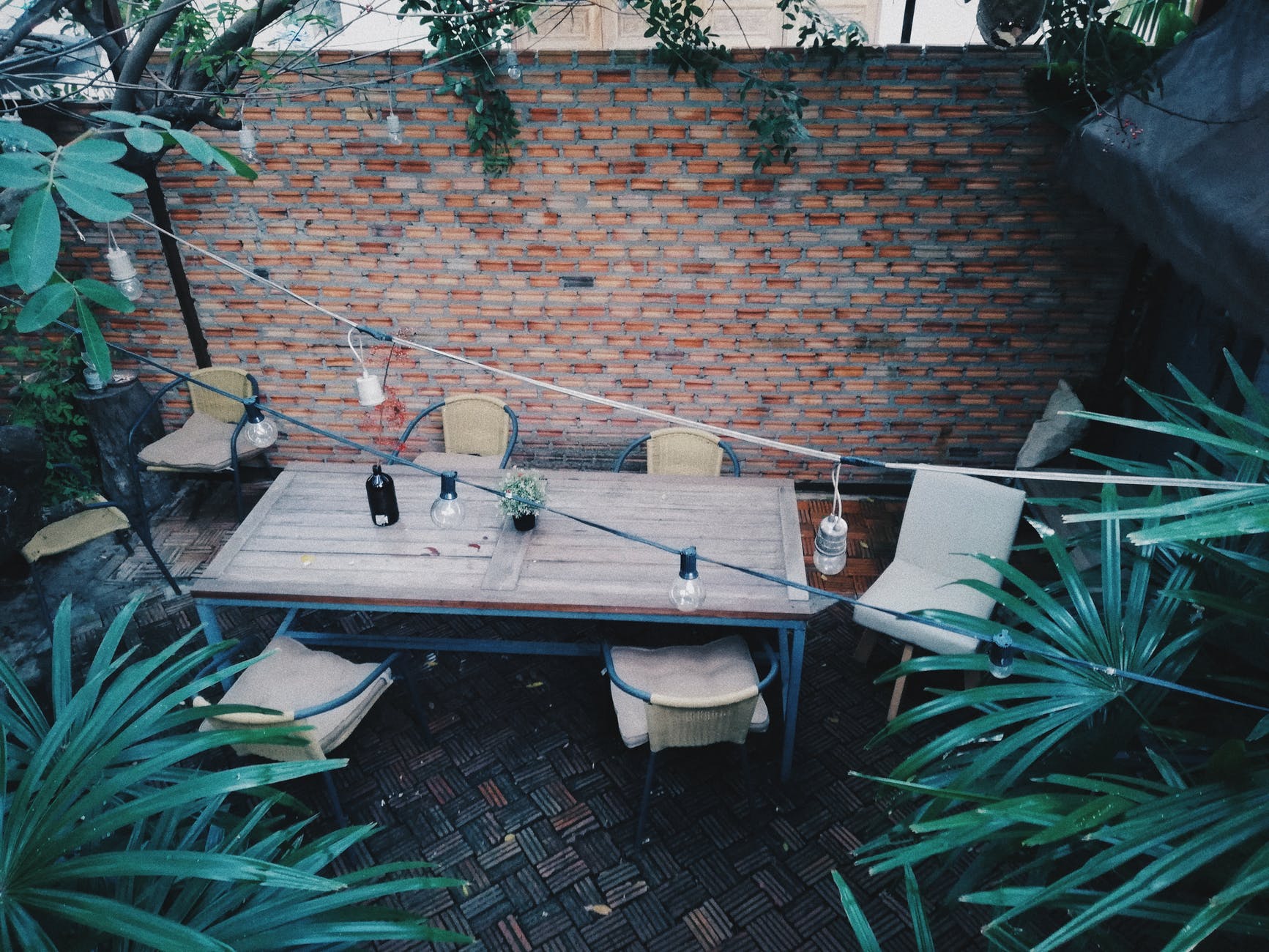 Every little effort you can make toward building a better backyard — or front yard — will make your outside time that much more enjoyable.
Shrubs - Whether you want flowers, foliage, or both, there is a shrub out there for everyone! They can also serve other purposes as well; for instance, prickly holly shrubs are good deterrents against break-ins when placed beneath windows, and thick boxwoods are great for adding privacy and keeping down noise from the street.
Flowers - Garden beds with flowers make any outdoor space look gorgeous, but you don't have to stop there! You can make use of any container to grown flowers in, as long as it has adequate drainage.
Herb garden - Set aside a section of your garden for herbs or plant pots on the deck. They're attractive, they smell great, and they're edible!
Trellis with climbing plants - Climbing plants can be woven into trellises, and it can make a nice dramatic addition to your outdoor space. Roses, ivy, morning glories, and even some fruiting plants such as cucumbers will all climb a trellis and provide shade, flowers, and foliage.
Bug zapper or spray - A bug zapper on the porch isn't everyone's cup of tea, but having some sort of pest control will make a big difference in your outdoor area. Adding a few citronella plants to your garden is also a good idea, and citronella candles provide soft firelight at night.
Outdoor furniture - Outdoor furniture comes in all different colors and styles, just like indoor furniture. You can also get pillows, rugs, and other decor items to go with it.
Pillows/blankets suitable for outside - Weather-friendly accessories for warmth and comfort are a great addition to your space outside, especially if you love to stretch out in the sun!
A fire pit - Provide a spark of something extra with a fire pit. You can easily build your own with stones or bricks, or you can buy a pre-made fire ring or pit at most stores that have a garden center. They're great for cool nights!
A water feature - It's easy and fun to build your own fountain! Solar-powered pumps are inexpensive, and all it takes to keep mosquito larvae away are a few goldfish or minnows in the water.
A message board by the front door - Tired of missing people? Your front door needs a message center.
Light fixtures by the door - Light fixtures can go a long way when you're updating and upgrading, plus they make your home so much more inviting!
Solar lights lining garden paths - Solar lights or fairy lights give your yard ambiance after dark. Plus, it makes it easier to walk around outside without tripping!
Shades to protect from the sun - Patio umbrellas or retractable shades protect from the sun. They can also add a big, fun splash of color!
A storage shed: Stash lawn and garden tools, games, and more with an attractive shed! There are so many options available, you can buy one that looks just like your house (or pretty close) and make a little garden for it, too.
Outdoor bar: Establish a space to store drinks, ice to keep them cold — or even a wet bar for mixing. Just think how much more fun parties and other gatherings would be!
Bird feeder: Feeding birds is another great way to entice your avian friends to flit around the yard.

Fence: There are all kinds of fences available and many ways to use them. From big wooden privacy fences to delicate wrought-iron gates and everything in between, a fence is what you need if you need some sort of separation in your space.
Trees: This should be a no-brainer, but trees are a beautiful addition! If you want to add trees, consider the kind of trees you want and how big they will get, and how close they should be to your house.