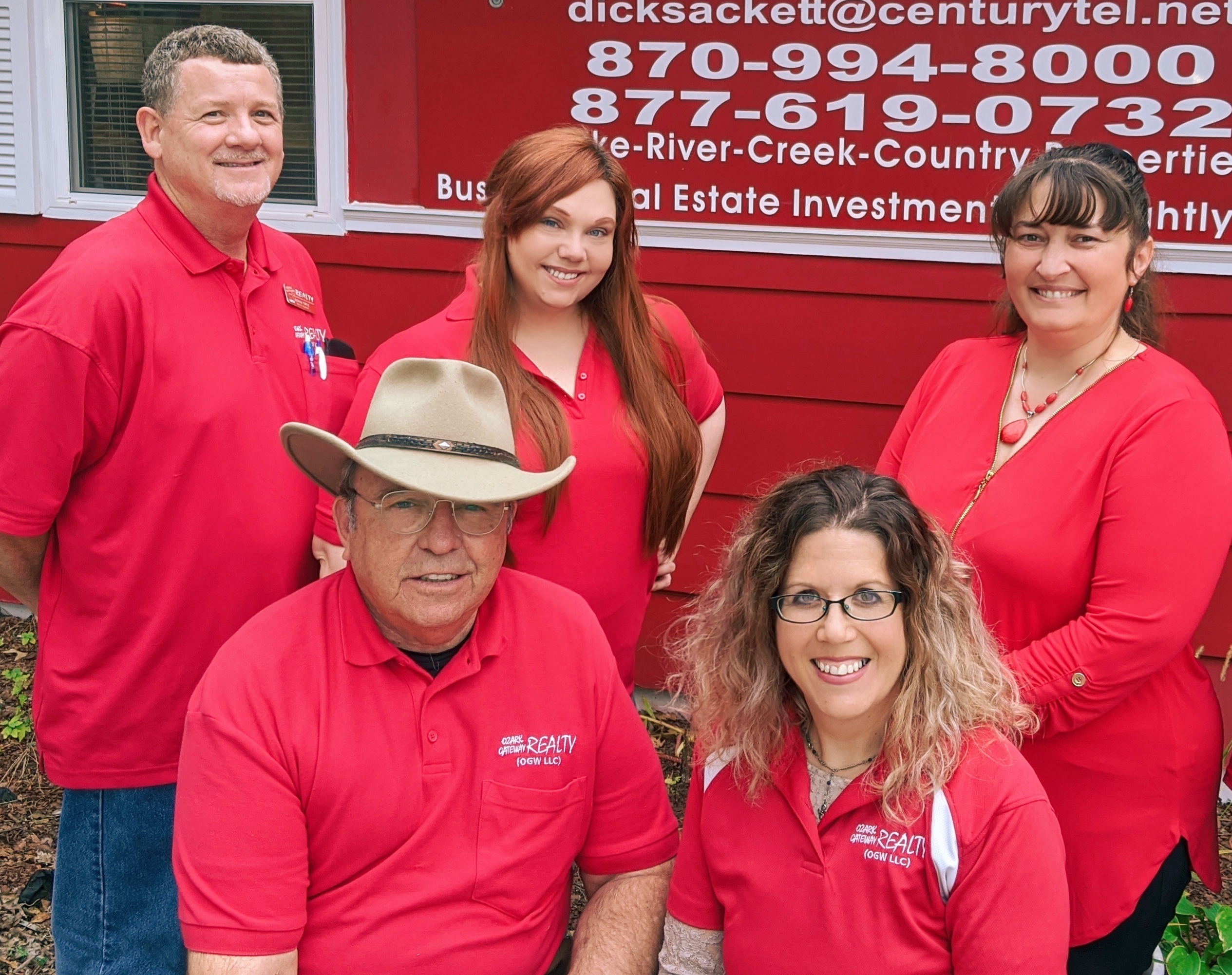 OZARK GATEWAY REALTY best known for our FLAT FEE LISTING PROGRAM has enjoyed fifteen years in business in the Cherokee Village/Highland/Ash Flat/Hardy area. Richard (Dick) Sackett founded this brokerage, OZARK GATEWAY REALTY (OGW LLC) in January 2005. He has well over thirty years experience in real estate in several states. He retired as an Army Logistics Colonel and is in the Field Artillery Hall of Fame. He is retiring again as Principal Broker, passing the title to his daughter Laura Sackett Clute. Laura became our Principal Broker in 2014, starting from the bottom up, including rental management duties. Crystal Bliss has been our Rental Manager since 2013, and also lists and sells homes. In 2018 John Tate joined us as an agent, then recently became a broker in 2020. Mandi Pope joined our team in 2019 as Marketing/Office Manager. All of us are here to help you with any of your real estate needs.
OUR FLAT FEE LISTING PROGRAM partners Sellers with Ozark Gateway Realty to sell their property. Flat Fee Listing Commission applies when the Seller successfully shows the property to a buyer procured by Ozark Gateway Realty through their extensive advertising (internet, print, radio, magazines, etc.). Ozark Gateway Realty then handles all aspects of the closing process from beginning to end to ensure a smooth transaction. The Flat Fee is collected when the Seller is paid at closing. The Flat Fee Listing Program is an economical way to potentially save a Seller thousands of dollars in commission! We have other programs specially designed for all types of sellers including our "Full Service" Program as well as services for buyers, investors and commercial property owners.
Our GOLD STAR TENANT PROGRAM is our Property Management Program started in 2009 when Ozark Gateway Realty branched out into the rental business. The Gold Star Tenant Program provides renters the opportunity to attain Gold Star status using our step by step program and then transition into homeownership. This program also benefits rental property owners by ensuring their property is being rented and cared for by Gold Star Tenants.
All of us at Ozark Gateway Realty are ready and prepared for all your REAL ESTATE NEEDS! Stop by and ask us how these successful programs can benefit you! WE NEED MORE LISTINGS TO SELL! Our office is located at 1206 Hwy. 62/412, Highland across from the WRMC Emergency Room - THE RED OFFICE! We will share with you coffee or the best program for buying, selling, renting, or investing. We are on the web at www.ozarkgatewayrealty.com and are available at 870-994-8000 or toll-free 877-619-0732. We have something for you whether you want to stay in the Spring River Area a day, a week or a lifetime!
We understand that buying or selling a home is more than just a transaction: it's a life-changing experience. That's why our team of highly-seasoned real estate professionals is dedicated to providing exceptional, personalized service for all of our clients. We take great pride in the relationships we build and always work relentlessly on the client's behalf to help them achieve their real estate goals.
Our team of experts represents the best and brightest in the industry, and we're always striving to lead the field in research, innovation, and consumer education. Today's buyers and sellers need a trusted resource that can guide them through the complex world of real estate. With our extensive knowledge and commitment to providing only the best and most timely information to our clients, we are your go-to source for real estate industry insight and advice.
OUR MISSION STATEMENT:
Our philosophy is simple: clients come first. We pledge to be in constant communication with our clients, keeping them fully informed throughout the entire buying or selling process. We believe that if you're not left with an amazing experience, we haven't done our job. We don't measure success through achievements or awards, but through the satisfaction of our clients.