Tuck Into These 8 Cozy Backyard Sheds and Studios

Soft lighting, warm interiors and plush furnishings make these outdoor retreats inviting

Lauren Dunec Hoang December 28, 2017
as published on: www.houzz.com
You may be inspired to find another home for your garden tools after taking a look at these sheds and studios turned into snug backyard retreats. Warm wood, soft lighting, layered quilts and other cozdetails set these outbuildings apart from the pack. From a shepherd's hut kitted out as a guest cottage to a garden shed hiding a hot tub, these retreats may sweep you away and provide inspiration for next year's project.

1. Craft studio with a porch. Tucked behind a house on Vashon Island, Washington, this mini prefab studio provides extra space where the homeowners can work on arts and crafts projects. The sloped tongue-and-groove pine roof extends generously over the studio's entryway deck, protecting the doorway from the elements and adding a nice architectural touch.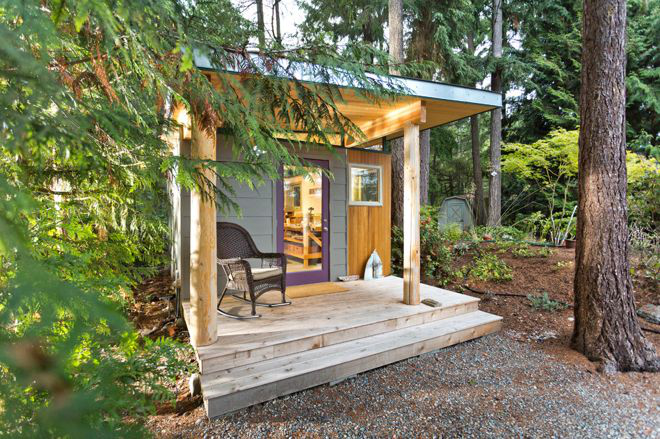 Turning an existing shed into a studio? Adding a porch, lofting the ceiling or widening windows can make a small structure feel more spacious. Soft elements like an entryway mat, cushy furniture and rugs to cover floorboards can help the space feel inviting.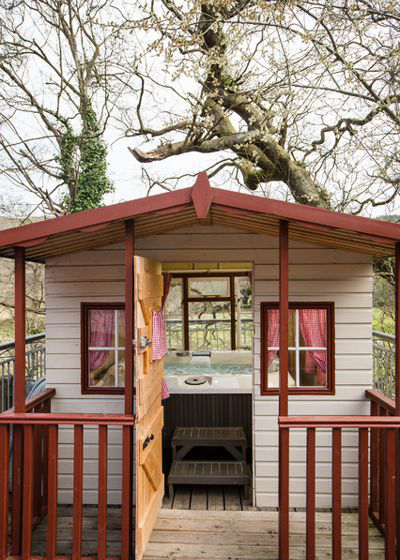 2. Covered hot tub. Imagine a guest's surprise when he or she discovers a luxurious hot tub behind the door of this playhouse behind a Welsh holiday home. Plus, the cottage is much more charming to look out onto than a blocky, covered hot tub.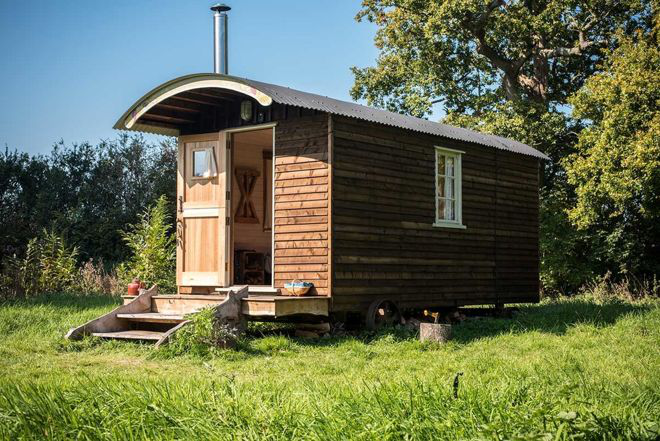 3. Kitted-out caravan. Wheeled straight into the backyard, this gussied-up shepherd's hut would be an inviting spot for hosting visitors.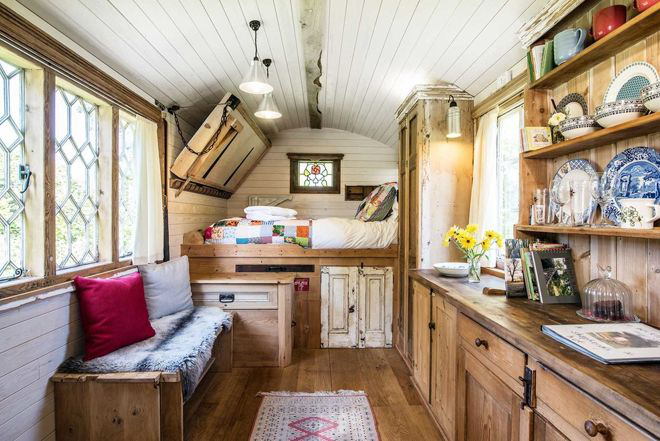 It has a built-in bed, a second fold-down cot and a mini kitchen, complete with a fridge, farmhouse sink, coffee press and toaster — effectively everything an overnight guest would need.
Rustic details, like salvaged wood doors for the underbed cupboard along with mismatched china, add to the charm. Layered patterned quilts, fuzzy throw blankets and vintage touches make the space feel especially homey.
4. Snug home office and storage shed duplex. A wall divides this backyard shed, allowing separate areas for sports equipment and a home office. While the storage space is bare-bones with its unfinished plywood walls, the home office was treated with a luxe finish. The room has warm lighting, pale mint-green walls, shelves and space for a desk.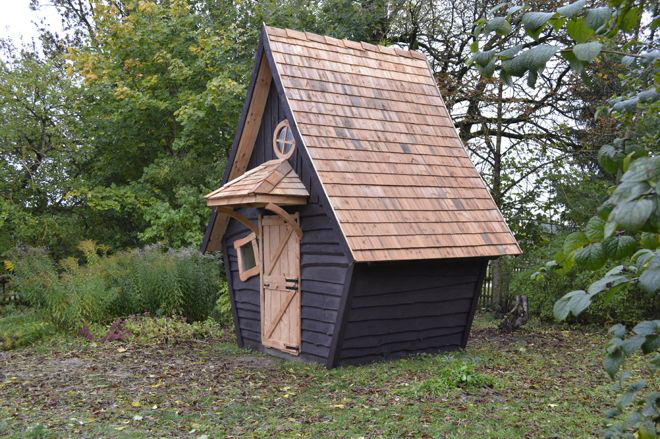 5. Fairy-tale cottage. With a steep shingled roof, a Dutch door and raw-edge wood siding, this charming tiny house in Latvia looks like it's straight out of a storybook.
Inside, a ladder leads up to the mini sleeping loft, which would be just enough room for young kids to curl up for a sleepover or an adult to relax with a book. The interior has been kept simple, with some boards left natural and others whitewashed to brighten the living room. Recessed lighting makes the cottage an appealing place for playing after dark.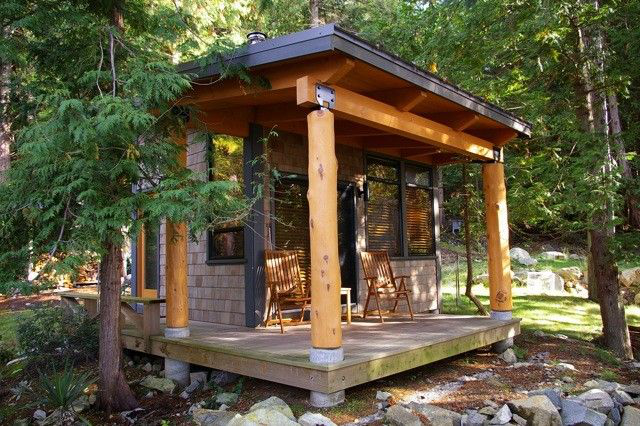 6. Rustic guest cabin. This little cabin set back from the main house in Pasley Island, British Columbia, Canada, provides space for overnight guests with a snug double bed and lofted single bed.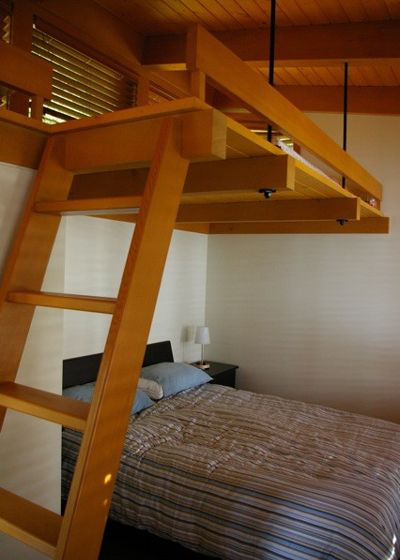 The project's contractors gave special attention to the details of the cabin's exterior, so that it suits the wooded environment. They used wood shingles to cover the sides and natural logs to support the roof of the generously sized porch.
Inside, the cabin feels like a camp bunk for grown-ups. A lofted single bed accessed by a wooden ladder is slotted over the main double bed below. Not only does this save on floor space, but it also makes the double bed feel extra comfy - like sleeping in a snug nook.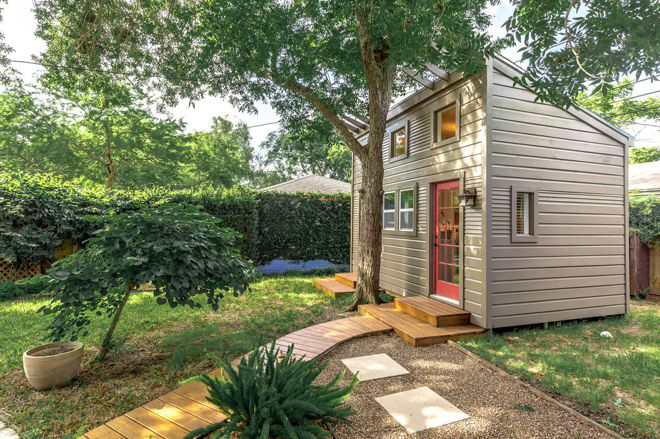 7. Cozy art studio. This light-filled studio space in Corpus Christi, Texas, is just steps away from the house but feels like a tranquil retreat. The building is oriented to receive as much natural light as possible, while also allowing room for a pecan tree to grow up through the roof's exposed rafter tails.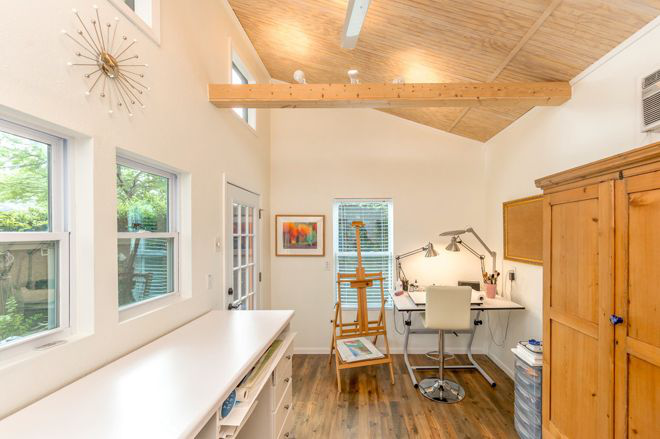 Elements that warm up the space - like the spotlights washing the warm brown wood ceiling - are highlighted, giving the space a cozier feel.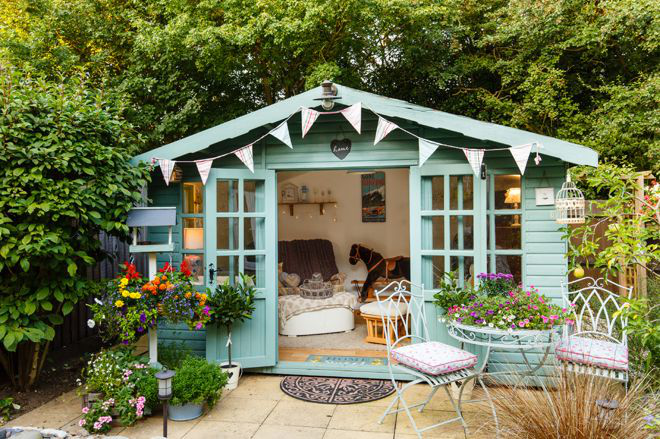 8. Garden living room. With striped bunting, comfy furnishings, twinkle lights and pots of flowers out front, this garden room in Cambridgeshire, United Kingdom, could hardly look more festive. Although designed more as a summer house, the garden room could easily become an inviting cool-weather destination with a small space heater and perhaps an electric kettle for tea on hand. Often just adding more light and warmth is enough to make a space more inviting, even in winter.